Article published in the Spanish magazine Facility Management & Services (October 2021).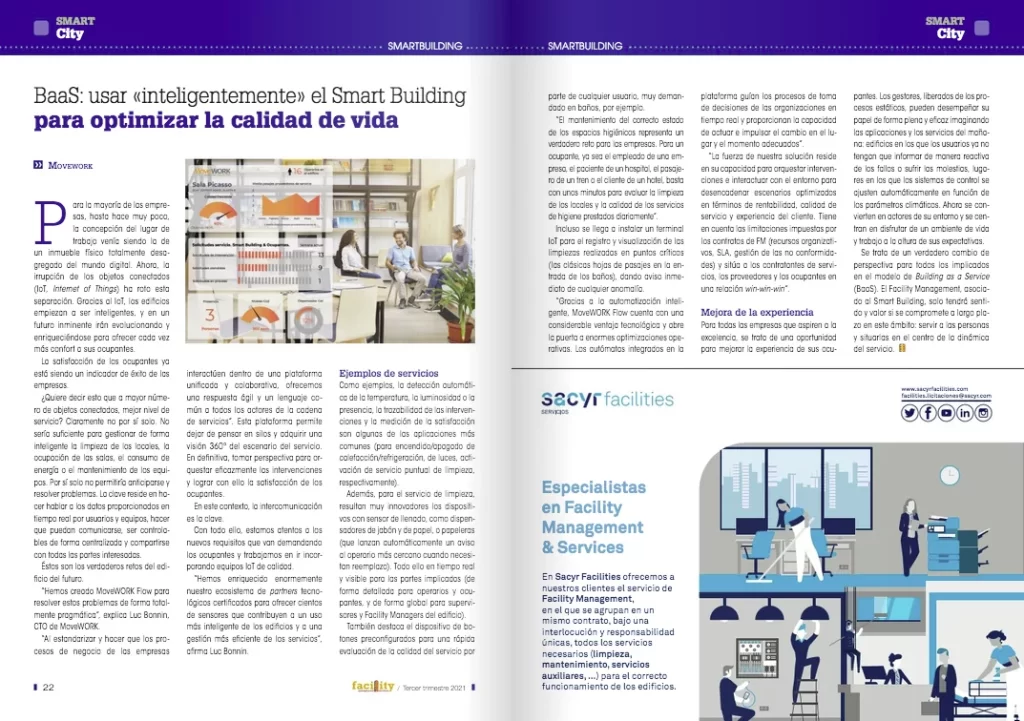 While businesses had become accustomed to viewing the digital and physical worlds as two separate domains in terms of applications, the IoT has shattered that separation and offered the ability to connect the two worlds on a massive scale.
Now, thanks to the IoT, our living environment is becoming a real ecosystem of services, which will evolve and be enriched over time in order to provide ever greater comfort to its occupants.
But to offer real services, it is not enough to multiply connected equipment. The data provided in real time by users, buildings and IT systems must be able to communicate with each other, be centrally controllable and be shared with all stakeholders.
Without this, how can you intelligently manage the cleanliness of the premises, the occupation of rooms, the reception of employees or the maintenance of equipment? How can we create and maintain a pleasant and healthy work environment, conducive to the well-being of its occupants? How to anticipate and solve non-quality problems before they occur?
These are the real challenges of tomorrow's building.
"We created MoveWORK Flow to address these issues in a very pragmatic way", explains Luc Bonnin, CTO of MoveWORK. "By standardizing and making companies' business processes interact within an interoperable and collaborative platform, we offer an agile response and a common language to all the players in the service chain."
The data collected is aggregated in a unified and open space that allows us to stop thinking in silos and effectively orchestrate interventions, as close as possible to the occupants' needs.
In this context, interoperability is key.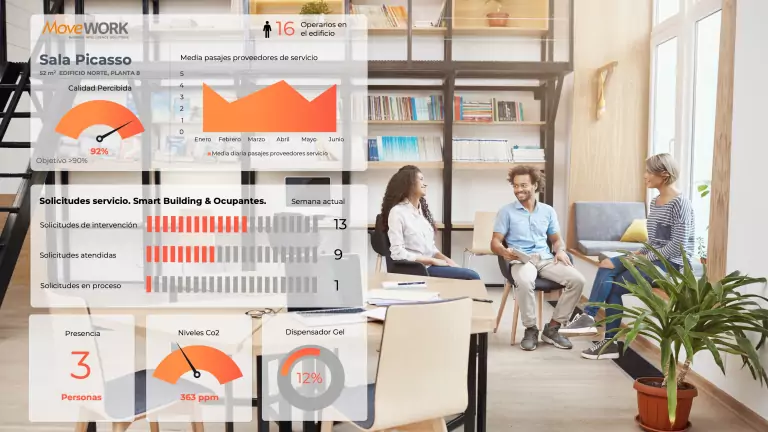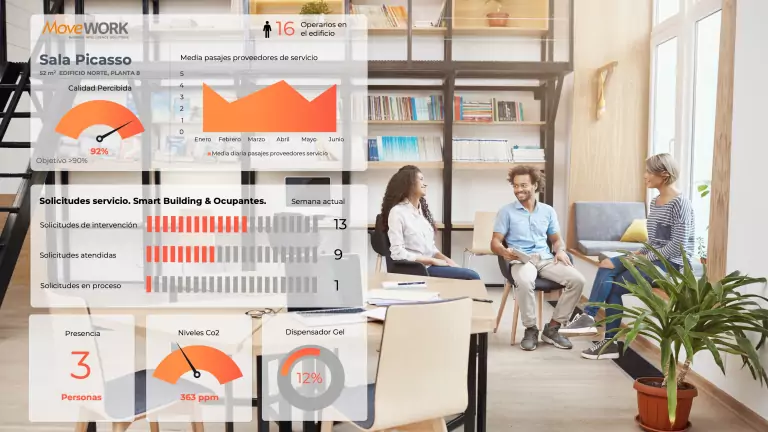 "We have greatly enriched our ecosystem of technological partners in order to offer hundreds of sensors that contribute to more intelligent building operation and more efficient management of services," explains Luc Bonnin.
Automatic detection of temperature, luminosity or presence, traceability of interventions, measurement of satisfaction are among the most common applications. Fully integrated into the MoveWORK Flow platform, these "Plug-and-Play" sensors have the advantage of being easily deployed in all types of private and public spaces. Their data allows the service providers to be in tune with the needs and real uses of the occupants.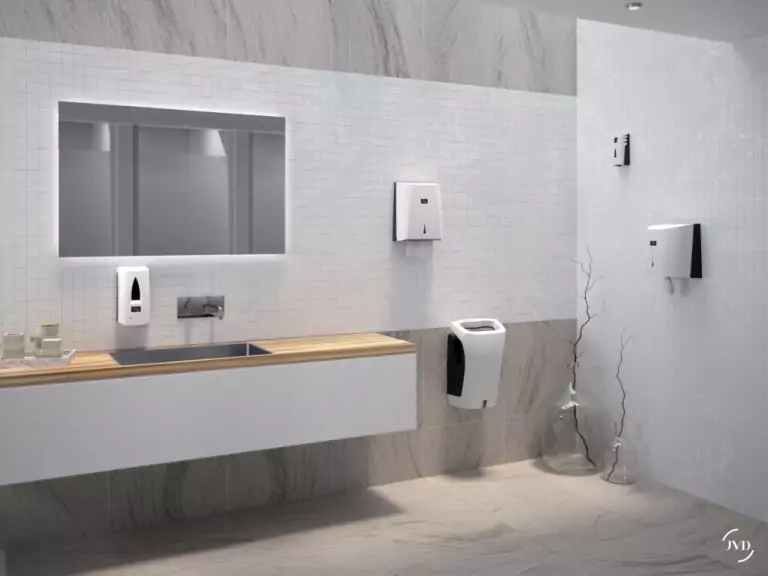 "The maintenance of sanitary spaces alone represents a real challenge for companies. For an occupant, whether he is an employee of a company, a patient in a hospital, a passenger on a train or a customer in a hotel complex, it only takes a few minutes to judge the cleanliness of the premises and the quality of the hygiene services dedicated to him on a daily basis."
To ensure that these areas benefit from a visible and efficient maintenance system that is constantly connected to the needs of users, the MoveWORK solution integrates innovative equipment that allows the cleaning and supply processes to be completely rethought (soap/paper dispensers, waste garbage cans, digital signage, service buttons, etc.). In real time, MoveWORK Flow users have a global and detailed view of all interventions performed by the agents. They are alerted even before consumable levels are low. They can understand the inefficiencies in their processes, optimize them and identify correlations that were previously invisible to them.
"With intelligent automation, MoveWORK Flow has a significant technological edge and opens the door to immense operational optimizations. The platform's embedded automata guide organizations' decision-making processes in real time and provide the ability to act and drive change in the right place at the right time."
Thus, a certain number of actions can be optimized in order to make the building as autonomous as possible, by triggering, for example, the starting and switching off of lighting according to the luminosity or the occupation of a room. The urgent needs of the occupants are more quickly taken care of by sending an alert to the closest agent with the right equipment, rather than to the one initially planned.
"The strength of our solution lies in its ability to orchestrate interventions and interact with the environment to trigger optimized scenarios in terms of profitability, service quality and customer experience. It takes into account the constraints imposed by FM contracts (organizational resources, SLAs, handling of non-conformities) and places principals, service managers and occupants in a "win-win-win" relationship."
For all companies offering services to occupants, this is an opportunity to reinvent their business model and to ensure real continuity and quality of service. Managers, freed from static and siloed processes, can fully and effectively play their role in imagining the applications and services of tomorrow: buildings in which users no longer have to reactively report failures or suffer the inconveniences, where control systems automatically adjust according to climatic parameters, where it is possible to know precisely when and where waste occurs in order to limit it to a strict minimum.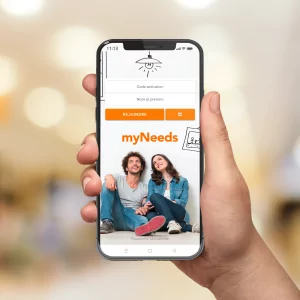 As for the occupants, they can finally become actors of their environment and enjoy a living and working environment that meets their expectations.
This is a real change of perspective for all those involved in "Building As A Service". Facility Management, associated with Smart Building, will only have meaning and value if it commits itself durably to this path: serving people and placing them at the heart of the service dynamic.